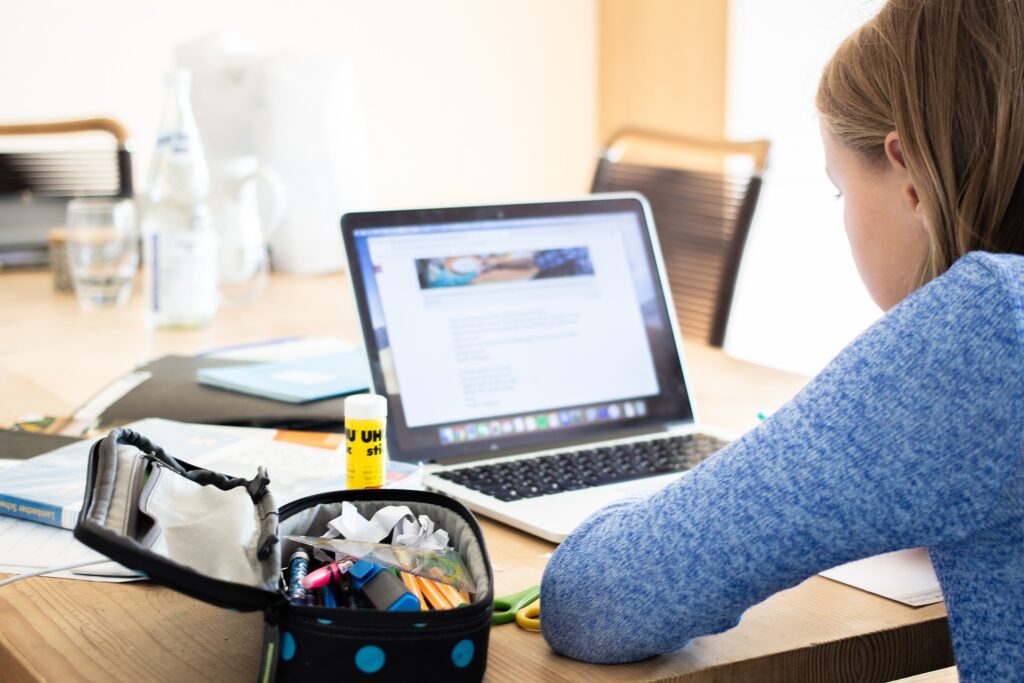 [Image Source: Pixabay]
By LISA WALKER

Regardless of what shape school takes for your child, be it remote, in-person, or some combination of the two, you've probably figured out there are advantages and disadvantages to learning at home. During these uncertain times, many parents have questions about sustaining their children's mental and emotional well-being, supplementing their education, and accommodating specific needs while also supporting the teachers. We hope the following guidance will help.
Working With the Teacher Helps You and Your Child
You and the teacher share a common goal: providing the absolute best learning experience for your child. Supporting their teacher can give you an even better understanding of your kid while also offering you a chance to partner for your child's best interest. There are a few things you can do to show your support and appreciation to the teacher.
Be Patient
Being patient and forgiving as the teachers try to figure things out is the best thing you can do. Everything changes rapidly – like guidelines teachers have no control over whatsoever – and because some parents have a hard time understanding this, it can create friction between you and your child's teachers. Remember, you have a common goal: your child's education.
It is also essential to check your emails and read them carefully. Because things are always changing, it's critical to stay updated about what is happening at your child's school.
Let the Teacher Know If Something Isn't Working
Many things that are happening in schools and online are new for teachers and students alike, so if you notice something isn't working, you should speak up. Open communication is crucial, and teachers are willing to work with parents to change how they do things.
'Thank You' Goes a Long Way​
Write a short thank-you note or an email showing you value them or have your child make a card. Just let the teacher know you appreciate their efforts in a friendly way.
Supplement Your Child's Education
Depending on your child's learning style and age, you may need to support them differently; however, you can do a few things – no matter your child's age and study style – to keep them on track while they are learning online.
Plan a Routine Together
Try to set up a routine that factors in online learning, homework time, and age-appropriate programs to watch online or on TV. Also, include playtime, reading time, or various Look for ways to enjoy these activities together so you can spend quality time with your child.
Have Open Conversations
Encourage your child to ask questions and voice their feelings. Keep in mind that your children will each have a different stress response, so be understanding and patient. You can do this by inviting your child to share their thoughts about something and follow their lead. Also, ​​make sure your child has the materials necessary to complete all assignments, whether it's a laptop, schools supplies, a Wi-Fi connection, or a PDF reader – whatever they need to complete their work.​
Provide an Environment Conducive to Learning
Providing a great environment that helps your child with learning isn't always easy. If they're isolated, it can be challenging to check in with them, but if they learn at the kitchen table, for instance, they may be too distracted. It is even more difficult when everyone is at home, and the family is complaining or arguing.
For one thing, tension and clutter can cause major distress. To alleviate these triggers, it's crucial to make some changes around the home. Open the blinds or curtains to allow in as much natural light as possible; a lack of natural light can negatively impact mood and focus, making you and your child feel tired, which can hamper concentration levels. Decluttering and cleaning can infuse your home with positivity, which in turn helps to relieve stress, eliminate tension, and improve the whole family's sense of well-being.
Provide Immediate Positive Feedback
​Every time your child concludes a distance learning instruction, provide positive feedback. This can be as simple as placing a checkmark or a sticker on the assignment, but it can make a significant contribution in helping to motivate your child.

With a bit of creative thinking and effort by you, as well as your child's teachers, your child will continue to build their skills, knowledge, and confidence, and have a great learning experience.
__________________________________
Lisa Walker is the proud SAHM (Stay at Home Mom) of two adorable but feisty sons. She enjoys trail hiking and beach-coming with her husband Jake when not busy with her boys and home improvement projects. She created NeighborhoodSprout.org as a passion project to share her love of homeownership with others.